12/9 Oakland RAIDERS Pittsburgh STEELERS Prepaid PARKING PASS LOT C Tailgate OK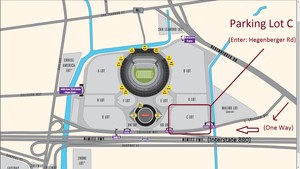 ---
Rescheduled to an Afternoon Start!

vs.
Available for immediate purchase in any quantity you like!
Here is a great set of up to Four* Prepaid Lot C Parking/Tailgating Passes for Parking Lot C of Oakland Coliseum valid for the

Oakland Raiders

hosting the

Pittsburgh Steelers

on Sunday evening, December 9th, scheduled to begin at 1:25PM PST.

.

Each Prepaid Lot C Parking/Tailgating Pass allows entry for one standard vehicle (SUV or pickup OK, but not a bus or RV) into Parking Lot C for this specific game.

See Pictures section for the Oakland Coliseum Parking Map. Note that Coliseum Way is One-Way northbound on game days, so enter from the Hegenberger Road (south) side.

* For a larger selection of Raiders home games, please see the Oakland Raiders Home Games Department of My Store.
Important note regarding game-week purchases:
items display a "Delivery: Estimated on or before..." date that is computed in terms of delivery times necessary for typical, shipped items.
For sports tickets, however, there are usually additional methods for getting your tickets electronically (often referred to as "Email Forwarding") that are available,  and in-person exchange of hard tickets in the Santa Clara area is often available from me as well.  
However, given that Paypal does not offer Seller Protection for such exchange methods (regardless of how well-documented they are),  I cannot accept Paypal for anything other than shipped, tracked delivery using a common carrier recognized by (e.g. USPS, UPS, FedEx, etc.).   
I can deliver tickets electronically for purchases using certain other payment methods,  but does not allow such methods to even be mentioned in a listing  or within Messaging before a transaction exists.
Therefore... If you wish to purchase tickets after it's too late for conventional shipment, knowing and accepting the above constraints,  please proceed with your purchase, and we can then communicate about payment and delivery options at that point.   If we cannot work out the details for a mutually-agreeable exchange, that purchase could easily be cancelled with no cost or obligation to proceed and no adverse effect on feedback.
Again, does not allow any reference to alternative exchange methods in listings or Messages outside of an existing transaction.  Any discussion within Messaging before a transaction exists will be limited to questions like, "are these still available?"  (I normally keep listings updated as game time approaches), or  "can you make a custom item for me for a special quantity or configuration?", or such.  But I cannot even respond to questions about alternate payment methods or pricing before a purchase has been made or suspension will result.
Ticketing Note:
These tickets are in hand and are available for immediate shipment or email-forwarding*! 

*(Click on the "Shipping and Payments" tab and scroll down to the "Sellers Payment Instructions" section to check availability of Forwarding for this particular item -- if Ticket Forwarding is mentioned, then Forwarding is available for this item!) Due to Paypal requirements, email-forwarding cannot be used when payment is via Paypal.
My Credo:
I do not use Reserve pricing. Your only competition comes from other bidders, not some artificial, secret limit imposed by me -- what you see is what you get. I do not use Private auctions. Bidders should have the right to see who is bidding  against them and know that their seller is not using Shill Bidding covertly to artificially raise  prices. I do not use artificially low starting bids and make up the difference using grossly  inflated shipping prices  (this is a too-common form of fee avoidance). My cost for an sale is the sum of the Listing fee, Final Value fee, Paypal fee (if applicable), and actual shipping cost.  I try to set the Shipping and Handling charge to cover just the Paypal and actual shipping charges, and I  allow discounts off the S&H charge for combined multiple purchases and/or in-person pickup. (Be very wary of sellers who use low listing prices and  high shipping costs; one motivation for  doing so is to avoid being subject to Fraud Protection  conditions).  I do not cancel auctions with bids in the closing hours or minutes if the bids  are lower than I'd like (another too-oftenly-used Fee Avoidance technique). I use realistic Starting Bids, and I let auctions with bids run their course --  that's the above-board and fair way to do business. Where possible, I don't limit you to receiving your tickets electronically (via Ticket Forwarding) as your only delivery option. I know that serious football fans often want the original full-color tickets  for souvenirs, while others prefer the convenience of Ticket Forwarding. With me, it's your  choice. Note that Forwarding costs me $2.50 per ticket, paid directly to Ticketmaster (unlike the Sharks and Warriors, who do not add a per-ticket charge for Forwarding.) Where possible, I take my own photos used in my auctions, often from the exact section and  row in which you will be sitting, in an attempt to be as accurate as possible  in representing the view quality. Failing that, I use official section-specific photos from the venue if the site/rightsholder does not forbid it. I also provide an annotated seating chart in all my auctions. I self-insure all tickets I sell. I can reissue tickets if they get lost or stolen in  transit, and I can often replace lost tickets (buyer must pay Forwarding fees and affirm their loss in writing).  Sellers who charge for insurance on regular or Priority mail (or regular Declared Value insurance on UPS shipments) are doing you no favor, since the USPS will not pay claims for  lost or delayed tickets for anything but insured Express Mail. Most of my sales go to repeat customers. Since most buyers have recurring ticket needs, I want to build a customer relationship over time. If you are seeking an event or ticket location or quantity that I've not listed, please contact me and I can probably help. I have numerous contacts among fellow season-ticket holders, and special requests are always welcome.
Scheduling note:
As with any outdoor sporting event, schedules are subject to change - as your game  approaches, be sure to check the Raiders' web site or other sports media for any changes.

Cool and/or windy weather may occur for late-Fall and Winter games at the Coliseum - dress in layers. If it will be sunny and you are sitting in a sun-exposed area, bring sunscreen, a hat, and/or sunglasses.

Rain is typically not much of a problem in the Oakland area (fewer than 20 inches a year), and it doesn't snow. 

In the (extremely unlikely) event of postponement, your tickets will be valid for the replay game, whenever it occurs.  In the MORE unlikely event of outright cancellation of the game (i.e. it is not to be replayed locally), your winning bid price (excluding S & H) will be refunded in full by me upon return of the unused tickets to me (return not necessary if your tickets were email-forwarded). 

If the weather is dicey on game day, I recommend that you  allow extra travel and parking time and tune your radio in to the Raiders' flagship radio station, FM 95.7 "The GAME" (KGMZ-FM), to check on game status; you likely will hear any news of problems or delay there first. 
Getting to the Stadium:
There are several public transportation options to take you to Oakland Coliseum events; I recommend using the Transit.511.org Trip Planner to survey the various transit options and schedule your trip.  The BART Coliseum Station is directly East of the Oakland Coliseum complex.
For Oakland Coliseum information, lists of allowed and prohibited items, parking info, and transportation tips, visit the raiders.com Stadium Info page.  Important Note: backpacks or coolers of any kind are  not allowed.
If you wish to drive to Oakland Coliseum, an official  RAIDERS PARKING Ticket is generally available from me directly -- see my Store. These prepaid parking passes allow early entry to the main parking lot for tailgating!   There is no extra charge for shipping parking tickets if shipped with a game ticket order.
Important: Effective with the 2016 season, all onsite parking in Coliseum lots requires a Prepaid Parking Pass for that lot. There is no cash admission at the gates anymore.
Note that children over 23 months of age must have tickets to enter the park at all. If you wish to bring a 2-year-old who will be sitting in your lap and does not need a seat, I probably have (or can obtain) an inexpensive single ticket that I can put on an Private Offer or Store Item for you to purchase that you can then use for gate entry -- please ask.
Terms - Please Read:
Shipping/Handling fees include handling and U.S. Mail shipping.  Other shipping methods (Priority, Overnight or next-afternoon air) are also available at extra cost.

If the game is fewer than two business days away, then  Next-day air shipping or in-person pick-up are the only shipment options.

Or, my full-season tickets can be emailed to you using Ticketmaster's Ticket Forwarding system so that you can print your tickets right at home or work!  For Ticket Forwarding, the regular shipping charge still applies. Forwarding is NOT available for Paypal-paid items.

If the game is fewer than two business days away, then Next Day Air shipping,  in-person pickup, and Ticket Forwarding (see above) are the only delivery options. 

Content and Style Copyright (c) 2003-2018 Extra Innings Tickets 080318